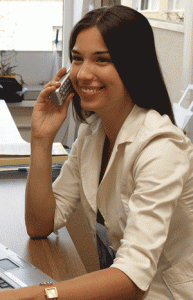 We've preached it for years … stand out from the big boxes by taking advantage of your competitive edge. One of the most significant competitive edges that independent distributors have over big boxes is their experienced, friendly staff who can provide expertise in any area of cleaning and maintenance.
Every website we build for JanSan distributors utilizes the opportunity to reach out to visitors in a personal and meaningful way. We view the "about us" page in particular as the vital first step to engaging website visitors and involving them with you and your business. People buy from people they know, like and trust.
Seeing smiling pictures of your staff is the equivalent in our high tech society of opening your door, reaching out your hand, and personally greeting your customers to make them feel at ease.
This last spring, we were pleased to see that American Express published an article that has come up with terminology to explain this approach. They call it "Smile Marketing."
A person's smile is "the symbol that was rated with the highest positive emotional content." There are some physiological factors that explain why smiles create such positive feelings. When the smile muscles in the face contract, there is a feedback loop that goes directly to the brain, reinforcing the feeling of joy that even transcends the elation created when eating chocolate.
Consider the number of ways that your sales staff can implement Smile Marketing. Of course, nothing replaces the in-person smile and handshake. It is perhaps the most simple and effective action to make customers instantly feel comfortable or diffuse their anger.
Discuss with your customer service reps the importance of smiling when they are on the phone with customers. Studies show that your voice tone actually changes if you are smiling, making it more inviting to the callers.
Think about the power of a smile in the sales process. Sales reps who smile display an air of confidence about the product and caring about the customer. It is easy for the customer to feel connected, as when someone smiles, there is a pretty good chance that the other person is smiling back.
Smiles advance the process of engaging customers and connecting them to you and your business. After all, customers want to buy from a business where people seem happy, confident in their product, and ready to satisfy the customer. People do buy from people they know, like and trust.
Keep smiling! It's good for business.
> Read the full article "The Science Behind Smile Marketing"
> Real vs. Fake smiles … can we tell the difference?