In this age of mouse clicks and finger touches, it is easy to categorize the good old-fashioned postcard as a marketing device of the past.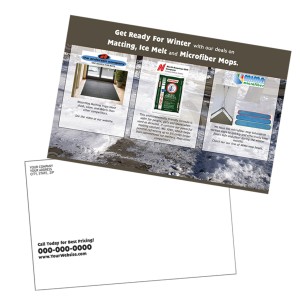 But is it?  Let's look at these reasons to praise the promotional postcard.
 100% Deliverable!  E-Mail campaigns are extremely effective to the prospects they reach and they are a phenomenal way to nurture leads.  However, the reality is that each e-mail message is subject to filters, bounces, and delete keys.  Marketers are happy with an average open rate of between  7 – 15% to fresh lists.  Compare this to a USPS deliver rate of 100%.
Hard to delete without looking.  E-mail communications can be filtered into junk drawers and never viewed by the recipient.  Even when the communications are seen by the recipient, it is easy to hit a delete key.  Holding a physical piece of paper in your hand forces you to look at it before you toss it into the trash container.
Quick communication of your message. The layout of a postcard quickly communicates your message in a graphic and memorable way.  A picture says a thousand words, and a postcard communicates the visual impact faster and more effectively than an email message.
No CAN-SPAM-type regulations.  You can purchase mailing lists or create your own list from various business resources and mail with no concerns of legal ramifications
Effectively motivates Generation X.   Sure, we've all heard how younger professionals depend on twitter and facebook for information, but according to a U.S. Postal Service survey, "Gen X, Gen Y and the Mail",  74 percent of Generation X and 68 percent of Generation Y read and respond to physical mail just like their older counterparts.
JanSanOptimize.com will optimize your JanSan postcard campaign, producing and implementing it quickly and economically.