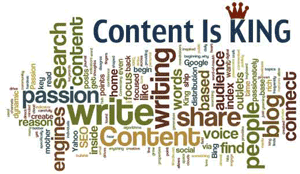 Your mantra for 2014 should be "help, not hype" as you build meaningful content on your website and in your marketing activities.
We've said this for years .. there has been a  sea change in the sales process and marketing strategies due to technology.
Customers don't want to be "sold" anymore.  They want to have significant information about how products solve their particular problems and meet their facility needs. After the information gathering, they "sell themselves" on a supplier and/or product.
Here are some interesting statistics from various Business-to-Business (B2B) studies:
64% of customers research a company and their product online before they make a first purchase
A lack of information was the reason that 67% of customers did not buy.
Business buyers do not contact suppliers directly until 57% of the purchase process is complete
87% of B2B decision makers report that content has either a moderate or major role in vendor selection.
Editorial content that offers in-depth insights is the most influential content type during the purchase process.
Take a good look at your primary marketing tool … your website.  What content do you have on your site to help customers make a decision? 
Is there information about your expertise,  details about the breadth of your product lines, and examples of your training programs or customer service?  Or, do you have a site that is heavy on pricing with little to no additional information?
As an independent distributor, look to your manufacturers for content and incorporate that content into your marketing activities.  Our new Monthly Marketing Program addresses the need for consistent communication to your customers with robust content that can be customized for your inventory.
Manufacturers can create content based on a number of resources such as internal sales feedback, chemist intelligence, and industry studies. Outsourcing content creation is gaining momentum as basic information can be enhanced by our content creation capabilities.