People buy from people they know, like and trust…especially in the janitorial supply industry. In our world of connecting via mouse clicks and keyboard str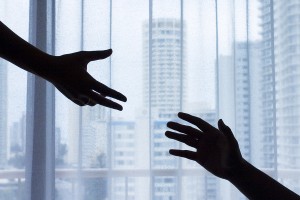 okes, it is imperative that you maximize the electronic conduit to meet, impress, and connect with your prospects in a meaningful way.
Are you unknowingly committing the deadly sin of the "Limp-Wristed Cyber-Handshake" on your janitorial website? In our evaluation of several hundred janitorial supply websites, we found a majority of them were committing this deadly sin in one way or another.
You can begin to avoid this website deadly sin by posting on your website smiling photos of you and your staff, as well as your warehouse, loading dock, and fleet.  The more pictures portraying you and your company as real people, the better. Add a few blurbs about who they are, what they like about their jobs, and their favorite interests.
This technique not only sets you apart from the big boxes, but enables you to virtually open your front door to website visitors, invite them in, and pour them a hot cup of coffee at your breakroom table.
A word of caution …we've seen websites that heavily rely upon stock photography.  As great as stock photos can be in certain situations, relying solely on stock photos can give an impression of your business being a "cookie-cutter" or artificial … much like model homes posing as a real family home.  You cannot fully connect with people using pictures that are not authentic.
When you take photos for your website, try to avoid the "mug shot" look.  Position people at desks or counters, smiling at either the camera or with customers, and looking friendly.  Other photos can be of your delivery trucks, warehouse pictures, training session photos, or various shots of your showroom and the products on display.
At JanSanOptimize.com, we specialize in building affordable, effective janitorial supply websites … without committing any deadly website sin.  Whether you need a complete website "re-boot" or a re-fresh on a few pages, we have a package to meet your needs.